The Rise Of Rome – End Of March Status Report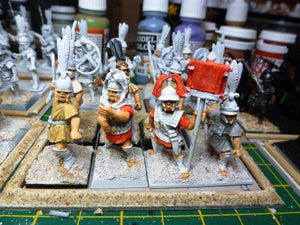 Well with Easter weekend over here in the UK coming up thought I would update you where we are.  I have been a bit behind in the updates, but hopefully can cure that next week.  Easter weekend away with the family so little or no painting wargames figures until get back home.
This is what the Roman Hastati look like so far.  they are a little on from this now with all iron and bronze base coats on.  Hopeful that with a little persistence I can finish all brown base coating and that pretty much sorts the figures ready for brush dipping.
Stage 1
Done pretty quickly during battle loads of Rome Total War the basic flesh tones using Foundry Expert Flesh 127C
Stage 2
This is where things are going to start to come together more.  its time to do the tunic base colours.  I generally want a light brownish/tan/linen look to the Hastati.  These are the young men providing their own kit and I would suggest it would be more every day than veterans of the Principes (If there was much diffrence which is disputed).
Anyway I have gone for a range of colours which should work well when dip brushed including:
GW Desert Yellow, GW Vermin Brown, Foundry Base Sand Light 100C – Base Sans Shade 100A – Spearshaft 13B – German Pea Pattern Tan Light 88C – Vallejo Ivory
I also added a couple in light grey which I probably highlight before the dipping as I am not convinced brown will work to shad grey that well (Similar for blue)
Command has been different.  With 3 groups I will differentiate with on in red, one in blue and other in white (Hence Codex Grey base)