Painting German Fallschirmjager Support Weapons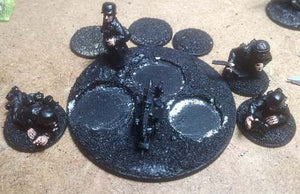 As I said in my last post here I am going to be painting up at least the 2 German Fallschirmjager support weapons I have for our Christmas game down at Penarth. Its going to be tight but fingers crossed.
Here are the pictures where I was at Monday 25th November 2013 with the painting. Apologies for the quality, they were taken quickly with my mobile phone which doesn't have the best zoom.
Painting Flesh
Simple recipe really. I like to base coat with Games Workshop Calthan Brown Foundation Paint as it goes on nicely over the black under coat.. The I used the Foundry Expert Flesh Range with a next layer of the B Shade and then C. I might add a final one later but that will do for the moment I think