Painted 15mm Russian Napoleonic Foot Artillery Limbers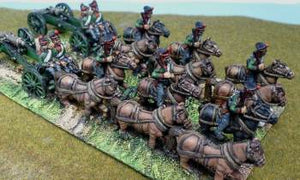 So straight into Part 2 of "15mm Napoleonic Miniatures A Renaissance. My first completed item is two painted 15mm Russian Napoleonic Foot Artillery limbers with 6 horses on each. I always loved the Russians due to the stickability of their infantry and they had loads of guns. The problem is I always forgot to buy limbers in time.
Why Choose These Russian Figures?
Anyway I had these 2 based up, black undercoated and ready to paint but never got around to it. When I started this figure painting project they were perfect candidates as I had one I painted years ago to compare it with. I have painted the other limber at the bottom.
Painting 15mm Wargames Figures Again
This was perhaps the hardest bit.  I hadn't painted 15mm miniatures for years. I use a magvisor contraption I got from Hobbycraft these days so that made it a lot easier. I really did enjoy painting these figures especially to be able to do them better than before.
I hope you enjoy. As always comments always welcome and visit the gallery here for the full load of pictures.
They are for sale now on Ebay – SOLD